Press Details
Chairman, Association of Bankers Bangladesh meets CCCI President
02-Dec-19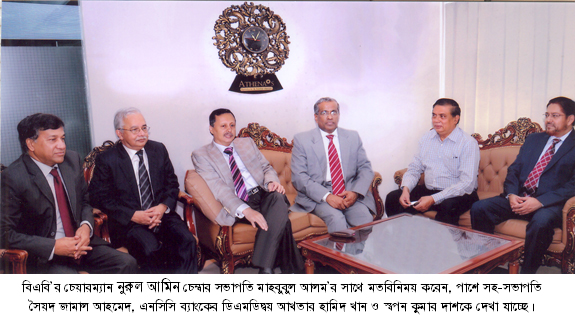 Businesses and Banking sector complimentary to each other:
Chairman, Association of Bankers Bangladesh meets CCCI President
Mr. Mohammed Nurul Amin, Chairman, Association of Bankers Bangladesh and Managing Director & CEO of National Credit and Commerce Bank Ltd. met with Mr. Mahbubul Alam, President, the Chittagong Chamber of Commerce & Industry on 11th June, 2013 at CCCI Office, WTC Building, Chittagong. Mr. Syed Jamal Ahmed, Vice-President, CCCI, Mr. Akhtar Hamid Khan and Mr. Swapan Kumar Das, Deputy Managing Directors and Mr. Mukhtar Ahmed, Senior Relationship Manager of NCC Bank Ltd. were also present at the meeting. They discussed about the present scenario of trade and business in this region and talked in details about finding way-out of the crisis based on mutual cooperation between the businessmen and banking sector.
Referring to slowdown of trade and business in Chittagong region, Mr. Mahbubul Alam pointed out that inadequate warehouse, increase of transportation cost for sending essential commodities all over the country because of the damned Dhaka-Chittagong highway and the high lending rates of bank loan place among the reasons in this respect. Chamber President urged the Bankers Association Chairman for providing finance after rescheduling of classified loan to assist the parties so that they can overcome the financial crisis. He also called to motivate more investment in the private sector to expand trade and business. Mr. Syed Jamal Ahmed opined that Head office of some private banks should be setup in Chittagong to enhance trade & business in this region. He requested the Bankers to take positive measures with a view to take the investors in capital market into confidence to make the market stable.
Mentioning the businesses and banking sector as complimentary to each other Mr. Mohammed Nurul Amin said that the banking sector is run in a professional manner with corporate culture based on information, capital and necessary talents. Honouring the glorious past of Chittagong in trade and business, he entreated the Chamber to take initiative to overcome the present slowdown in the business of this port city as well as assured all out cooperation on the part of banking sector in this replika klockor sverige context. Both the parties agreed on the point of arranging a view exchange meeting with all the stakeholders to find out concrete solutions to get rid of the tangled situation in business at present.