World Trade Center
The WTC is more than a building or an organization. It brings together business and government agencies involved in international trade. Moreover, it provides essential trade services and stimulates the economy of any region it serves. It works as a single combining factor which puts all the services associated with global commerce under one roof.
As per the constitution and bylaws of World Trade Centers Association (WTCA)- the mother body of all World Trade Centers in the world, "World Trade Centre" is defined as one or more buildings or structures, of whatever type, kind, nature or design, providing for the centralized accommodation of both activities and services devoted to world trade and international commerce, the promotion, furthering and protection of such trade and commerce, or similar services related to the foregoing.
A World Trade Centre (WTC) connects its members to the universe- to the companies and the government agencies, which make up the fabric of global commerce.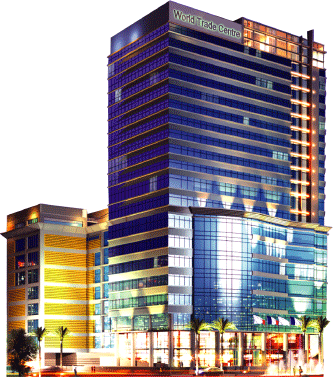 In the present day world of business, the World Trade Centre (WTC) renders facilities and services to the practitioners of trade they need to conduct global business, creating a central focal point for a region's trade services and activities of a "one-stop-shopping" centre for international business. Almost 100 countries of the world have established about 300 numbers of WTC's for the faster development of the World Trade. The history of WTC dates more than 60 years back. The first WTC was built in New Orleans in 1943 as an International House and in 1945 it was converted as International Trade Mart.
The WTC Chittagong will be the newest edition of WTC Members and the first in Bangladesh.
Features
| | |
| --- | --- |
| | 5 Star Hotel. |
| | International Standard Convention Hall. |
| | Conference Centre. |
| | Temporary & Permanent Exhibition Hall. |
| | World Trade Centre Club. |
| | 3 Basement Car Parking (400 Cars). |
| | Media Centre . |
| | Office Block. |
| | Block for Financial Institutions . |
| | WTC Exclusive IT Zone. |
List of the Companies /Business organization Displayed Their Products
In the Exhibition Hall at World Trade Center, Chittagong, Bangladesh.
osmrtnice
osmrtnic livno
smrtovnice
SL #

Name of Companies/ Organizations

Contacts Address

Exportable Products

Abul Khair & Company

D.T. Road, Pahartali, Chittagong

Mr. A.M.M. Shafiqur Rahman

Asst. Manager

+88-031-714541 Ext. 219

+880-1912-133427

E-mail: shafiq_cb@abulkhairgroup.com

Building Materials, (Rod, Cement, Tin, etc.) Ceramic, Food & Beverage

Anando Shipyard

10/1, City Heart, (9th floor)

67, Naya Paltan, Dhaka-1000

Mr. Fahmida Bulbul

Director Establishment

+880-1929-992007, 02-8312681

Fax: +880-2-8312681

E-mail: fahmida.bulbul@gmail.com

Passenger ship

Cargo Ship, Vessels etc.

At Export Import International

Sattar Chamber (4th Floor)

99, Agrabad C/A, Chittagong.

Mr. Ashoke Kumar Sarkar

Managing Partner

+88-031-2511183

+880-1677-300823, +880-1624-340037

Fax: 724498

E-mail: ashoke@atfrightbd.com; bikash@atfrightbd.com

Jute Goods, Jute Bag, Handicraft, Jute Twain, etc.

ATR Food Processing Ltd.

33, Ramjoy Mohajon Lane

Khatungonj, Chittagong

Towhidul Alam

Managing Director

+88-031-632814, +88-031-634551

+880-1713-162511

Fax: +88-031-610280

E-mail: agro.atr@gmail.com

Processing Chicken

Banoful & Co

Sk. Mujib Road, Chowmuhani, Chittagong.

Mr. M.A. Motaleb

Chairman

+88-031-712232, +88-031-2521778

+880-1714107254, +880-1713432540, mbanoful@yahoo.com

Web: www.banofulgroup.com

Food & Beverage

Biscuits, Chuips, Jems, Jelly, etc.

Bashundhara Paper Mills Ltd

Bashundhara Group

Bashundhara Industrial Headquarters (BIHQ) Plot # 03, Block # G, Umme Kulsum Road, Bashundhara R/A, Dhaka – 1229

Mr. Salim Ullah

Head of the Department, Brand

BPML, BG

+880-1713-335787

E-mail: salim.brand@bg.com.bd

Tissue

BD Group (Food)

Taher Tower (8th Floor), Gulshan North Avenue

Gulshan-2, Dhaka-1212

Mr. S M Masud Rana

Head of Marketing

+88-02-8819454-9, +880-1714-090179

Fax: +88-02-9863360

E-mail: bdbrand@dhakacom.com

Food & Beverage

Biscuits, Chuips, Jems, Jelly, etc

BD Seafood Ltd

CDA plot no-68,w(p) Sgorika Road, Pahartoli, Chittagong

Md. Ahsan Ullah

Factory Manager

+88-031-2770972, Fax: +88-031-2770970

E-mail: factory@bdseafood.net

Web: www.bdseafood.net

Frozen Food

Bombay Sweets & Company Ltd.

Delta Life Tower (8th Floor)

37, Gulshan North C/A

Road # 90, Gulshan-2, Dhaka-1212

Mr. Salim S. Jivani

Director

+88-031-9893800-1

E-mail: info@bombaysweetsbd.com

Food & Beverage

Biscuits, Chuips, Jems, Jelly, etc

BRB Cable Industries Ltd.

BRB Tower

House # 12, Lane #5, Road # 1, Block # L, Agrabad Access Road, Halishahar, Chittagong.

Md. Parvez Rahman

Managing Director

+880-1730-733969

E-mail: brbdo@brbcable.com

Web: www.brbcable.com,

Cable

BSRM Group of Company

Ali Mansion, 1207/1099, Sadarghat Road, Chittagong.

Nayeem Hossain

+88-031-613759, 031-637758

+880-1755-656918, +880-1714-105068

E-mail: mail@65rm.com

Building Materials, (Rod, Cement, Tin, etc.)

Clifton Group

04, Jubilee Road

Jibon Bima Bhaban, Chittagong

MD. M. Mohiuddin Chowdhury

Director

+880-31-615479, +880-1819-321787

E-amil:info@cliftongroup.com

Knitwear

DELHI Aluminum Ltd.

29, Bania tila, Station Road, Chittagong.

Mohammed Abu Taher

Executive Director

+88-031-611096, +88-031-614715

Fax: +88-031-610368

+880-1777-717799, +880-1713-109170

E-mail: taherdaf@gmail.com

Aluminum Utensils,

Verities Kitchen Materials.

Eastern Apparels Ltd.

Eastern Trade Center

9/A, Jubilee Road, Chittagong.

Mr. Nasir Uddin Chowdhury

Managing Director

+880-1819-310431, +88-031-617787

E-mail: info@easternbd.com

RMG

Elite Paint & Chemical Industries Ltd.

Elite House, GEC Circle, CDA Avenue, Chittagong.

Md. Shah Jalal

Regional Sales Manager

+880-1955-310381, +880-19125-15297

Tel: +88-031-654022-24

Fax: +88-031-2556470

E-mail: info@elitepaint.com.bd

Building Materials, (Rod, Cement, Tin, etc.)

Energy Pac Electronics Ltd.

Energy Center, Plot # 02, Road # 01, Lane # 05, Block # L, Halishahar H/E, Chittagong.

Engr. Nuruul Aktar,

CEO in Director

Branch Manager

+8802-8870827, +880-1777-777456

Fax: +880-2-8870048

E-mail: ripayan@energypacelectronics.com

Web: www.energypac.com

Electronics Items

Switch, Plug, Socket etc.

Figo Apparels Ltd.

Plot # B-62,63 & 5-21 (P)

BSCIC I/A, Kalurghat, Chittagong.

Mr. S.K. Bhattacharyya

Managing Director

+88-031-671672, +88-031- 672252

+880-1713-120056

E-mail: biswas@figoapparels.com

Sleep Wear,

T-Shirt & Undergarments

Fish Garden Ltd.

7, Abhhoy Mitar Lane, Firingee Bazar, Kotowali, Chittagong.

Mr. Meer Ahmed

Director

+880-1819-320728, +880-1816-575722

E-mail: fishgardenltd@gmail.com

Foreign Fish

Fulkoli Bread & Biscuit Ind. Ltd.

1614/1656, Idris Building, Amir Ali Road Chy. Asadgonj, Chittagong.

Mr. Kafil Uddin

Director

+88-031-285561-62,

+880-18177-76110

Fax: +88-031-625872

Food & Beverage

Biscuits, Chuips, Jems, Jelly, etc

Golden Horizon Ltd.

CDA, Annex Building

Kotowali, Chittagong

Mr. Arshad Ullah

Sr. Director (Finance)

+88-031- 620174, +88-031-611033

+880-1819-319344

Fax: +88-031-610352

E-mail: arshad@sunman.net

RMG

Green Tech

Airbell Edhina A-2, (2nd Floor), 920, New Mansurabad, Akbarsha, Chittagong.

Mr. Neroz Barua

Chairman & CEO

+880-1554-329818, +880-1942-620197

E-mail: greentechctg@gmail.com

ETP, WTP, APC, ETC (Total Environment Solution)

Grow BIZ Industries Ltd.

Plot # 14, Road # 14, Sector # 06

Uttara, Dhaka-1230

Mohammad Hanif, CEO

+880-1612-500008, +880-1613-500008

E-mail: md@polycellbd.com

Handicrafts

Independent Apparels Ltd

21/27, Bayezid Bostami Nasirabad I/A, Chittagong.

Mr. S.M. Abu Tayyab

Managing Director

+88-031-682504, +880-1711762915

Fax: +88-031-682829

E-mail: info@independentbd.net: abu@independentbd.net

RMG

Kiam Metal Industries Ltd.

BRB Tower

House # 12, Lane #5, Road #1,Block # L, Agrabad Access Road, Halishahar, Chittagong.

Md. Mizber Rahman

Managing Director

+880-1730-097190

E-mail: info.kiam@gmail.com

Web: www.kiammetal.info

Aluminum Utensils

Kishwan Foods

Sk. Mujib Road, Chowmuhani Chittagong.

+880-1714107254

E-mail: kafilksl@gmail.com; export@kishwan.com

Web: www.kishwan.com

Food & Beverage

Biscuits, Chuips, Jems, Jelly, etc

Kishwan Group

Sk. Mujib Road, Chowmuhani Chittagong.

+880-1714107254

E-mail: kafilksl@gmail.com; export@kishwan.com

Web: www.kishwan.com

Food & Beverage

Biscuits, Chuips, Jems, Jelly, etc

KSRM Steel Plant Ltd.

Kabir Manjil, Sk. Mujib Road, Agrabad, Chittagong

Mr. Md. Moniruzzaman Reyadh

+88-031-711501

E-mail: marketing@ksrm.com.bd

Building Materials, (Rod, Cement, Tin, etc.)

Loyal Apparels Ltd.

403, Kulgaon, Hathazari Road, Jalalabad, Bayezid, Chittagong.

Mr. Mirza Mohmmed Jamshed Ali

Managing Director

+88-031-2584601, +880-1819-559883

E-mail: rashed@ritzygroupbd.com

RMG

Lub-Rref (Bangladesh) Ltd.

B-6 (Part) 9-10 & 23-24

BSCIC Industrial Estate Block, Chittagong.

Anisur Rahman Chowdhury

Executive Officer

+880-1977-266026, +88-031-2770019

Fax: +88-031-751091

E-mail: info@lub-rref.com

Web: www.lub-rref.com

Lubricants

M.I. Cement Factory Ltd.

House # 1&7, Road # 95, Block # CEN (A)

Gulshan-2, Dhaka.

Md. Mozharul Islam, FCS

Secretary

+880-1711-533637, +880-2-9852631,

+880-2-9852633-4

Fax: +880-2-9852643

E-mail: info@crowncement.com

Web: www.crowncement.com

Building Materials, (Rod, Cement, Tin, etc.)

M.S . Corporation

A.K. Complex, Leve-6, Flat # 01

Green Road, Dhaka-1205

Mr. M.K. Bhattacharjee (Mrinal)

+880-1713-006410, +880-1613-006410

+880-2-7321028

E-mail: sheuli.ent@gmail.com

Hand Made Gamdani

Megumi Footwear Ltd.

House #6, Road # 3, Sector # 10, Uttara, Dhaka.

Syed Mohammed Al-Amen

Managing Director

+880-1841-000253,

+880-1841-000240

E-mail: commercial@megumifootwear.com

Leather Goods

Hand Bag, Shoes, Refine Leathers.

Meridian Foods

Macro Hunts Building

(7th Floor) 42, M.M. Ali Road, Dhamapar, Chittagong.

Mr. Md. Kalim Uddin

Asst. Manager.

031-2865451-2, +880-1970-012564

+880-1709-662813

E-mail: kalim.uddin@meridiangroupbd.com

Food & Beverage

Biscuits, Chuips, Jems, Jelly, etc

Moontaha Apparels Ltd.

Baktair Complex

2112, Hajipara, Wazadia

Bayezid Bostami, Chittagong.

Md. Abdul Barek

Managing Director

+880-1978-009397, +880-1714-306729

E-mail: azad_01711@yahoo.com

RMG

N. Mohammad Plastic Industries Ltd.

224/A, C.D.A, Avenue , Muradpur, Chittagong.

Mr. Mohammad Nazrul Hoque

Managing Director

+88-031-650362, +880-1714-087579

E-mail: safarhad@nmohammadgroup.com

Website: www.nmohammadgroup.com

Plastic Chair, Door, etc.

National Polymer Group

House # 15 (1st Floor), Road#24, CNW (C), Gulshan-2,

Dhaka-1212.

Forhad Sharif

Asst. Manager

+880-2-58812926, Ext.176

Fax: +880-2-58812837

E-mail: forhad@info-bd.net

Plastic Chair, Door, etc.

Op-Seed Co. (BD) Ltd.

Plot #29-32, 56-59, Sector-7, Export Processing Zone

Chittagong.

Md. Helalul Islam

+88-031-740641-2

Fax: +88-031-740640

E-mail: hataul@opseedbd.net

Led Lighting Manufacturing Products

Picard Bangladesh Ltd

Baro Rangamatia, Kath Gora, Ashulia, Savar, Dhaka

Md. Hafijul Islam

+880-1818-627671

E-mail: picardbd@picardbd.com

Web: www.picard-bd.com

Leather Goods

Hand Bag, Shoes, Refine Leathers

Pima Bangladesh

60.1, Ruhani Bondon, Urban H/S

West Sohid Nogor, Hat Hazari Road, Bayezid, Chittagong.

Mr. Shadat Hossain Manik (CEO)

+880-1819-349847, +880-1764-41033, +88-031-2581602-3

E-mail: pima_bd@yahoo.com

Web: www.primabd.com

All Kinds of Desiccant

Raj-Kamal Everbest Corporation Ltd Paramount Heights (3rd Floor) Suite # 3/a, 65/2/1,

Box Culvert Road Purana Paltan, Dhaka-1000.

Mr. Mostafa Kamal

Managing Director

+880-2-7125613, +880-1711-541147

Food & Beverage

Biscuits, Chuips, Jems, Jelly, etc

Riff Leather Ltd.

(A Unit of T.K. Group of Industries)

4, CDA Noxious I/A, Chandgaon Kalurghat, Chittagong.

Md. Mokhlesur Rahman

Director (Operation & Sales)

+88-031-671220, +880-1819-311907

E-mail: info@riffleather.com

Web: www.riffleather.com

Leather Goods

Hand Bag, Shoes, Refine Leathers

Ritzy Group

175/A/186, SK. Mujib Road, Agrabad C/A, Chittagong .

Mr. Mirza Mohmmed Jamshed Ali

Managing Director

+88-031-2584601, +880-1819-559883

E-mail: rashed@ritzygroupbd.com

RMG

Royal Cement Ltd.

Kabir Monjilm Sk. Mujib Road, Agrabad, Chittagong

Mr. Engr. Faisal Nasir Khan

Brand Manager

+880-1755-588718, +880-1819-321061

Fax: +88-031-711223

E-mail: faisal_nkhan@yahoo.com

Cement

RSB Industrial Ltd.

Plot #35, Sector #4,CEPZ, Chittagong.

Mr. Anjan Shekhar Das

Managing Director

+88-031-741931, +88-031-741940

+880-1711-720484

E-mail: anjan@rsiapparel.com

RMG

Saad Musa Group

Khawja Road, Kulgaon,

Jalalabad, Chittagong.

Nandan Kumar Datta

MGR Marketing

+88-031-683951-3, +880-1711-785359

Fax: +88-031-683954

E-mail: mohsin@saadmusa.com ; nandandatta@saadmusa.com

Textile

Bad Sheet,

Pilo Cover

Shownon Handicrafts

609, Ibrahimpur, Kafrul

Dhaka-1206

Habiba Khan Mojlish

+880-1710-864262, +880-1825-423107

E-mail: shownonhandicrafts@gmail.com

Handicrafts

Star Ceramic Ltd.

House # 44, Road-10,Sector-11

Uttara, Dhaka.

Md. Ehsanul Haque

Asst. Manager, Sales & Marketing

+880-1610-781970

E-mail: eshan@starceramicsbd.com

Tiles & Sanitary Ware

Stitch Tone Apparels Ltd.

18/19, Strand Road

Champa Tower, Majhirghat, Chittagong.

Mr. Bidhan Chandra Das

Managing Director

+880-17555-78834

E-mail: bidhan@stitchtonebd.com

RMG

Sufi Apparels Ltd.

Holding # 75, Plot # 02

CDA Market, D.T. Road

Pahartali, Chittagong.

Md. Abu Taher

+880-1711-797910

E-mail: taher_sufi1@yahoo.com

Shirt, Pant, Swim, Trunk, Shorts, PJ

Sun pack Industries Ltd.

CDA Annex Building

Kotowali, Chittagong

Mr. Helal Uddin Ahmed

General Manager

+88-031-620174, +88-031-611033

+880-01711-342978

Fax: +88-031-610352

E-mail: info@sunman.ne

RMG

Ventura Leatherware Mfy (BD) Ltd.

Navana Divine, House #18, Flat # A2,Road #01, Lane # 4, Block #L, Halishahar Housing, Estat-4228, Chittagong

Mr. Ruhul Amin

Operation Manager

+880-1787-670280, +880-1752-977977

E-mail: ruhul.amin@bdventura.com

Leather Goods

Hand Bag, Shoes, Refine Leathers