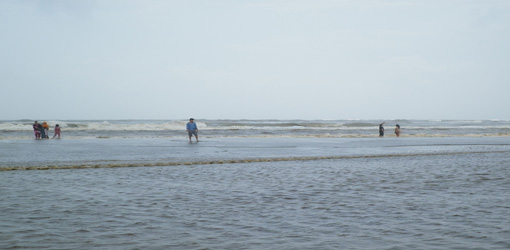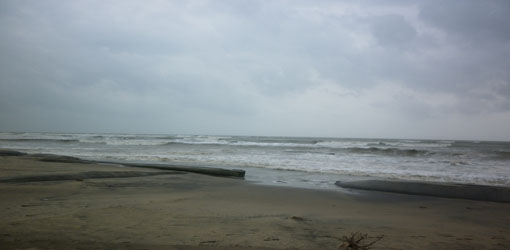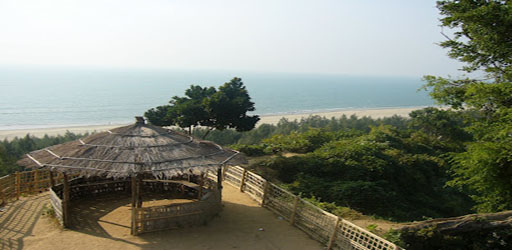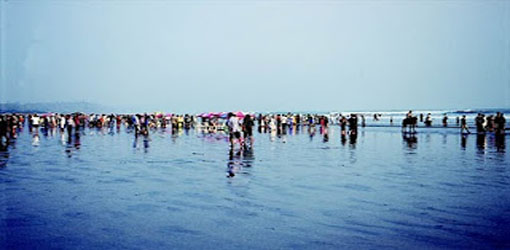 Cos'x Bazer
Cox's Bazar District is a district in the Chittagong Division of Bangladesh. It is named after Cox's Bazar, which is one of the world's longest natural sea beaches (120 kilometres (75 mi) including mud flats). It is located 150 kilometres (93 mi) south of Chittagong. Cox's Bazar is also known by the name Panowa ("yellow flower"). Another old name was Palongkee. The modern Cox's Bazar derives its name from Captain Cox (died 1798), an army officer who served in British India. It is one of the fishing ports of Bangladesh.

The history of Cox's Bazar begins in the Mughal period. On his way to Arakan, when the Mughal Prince Shah Shuja (1616-1660) passed through the hilly terrain of the present day Cox's Bazar, he was attracted to the scenic and captivating beauty of the region. He commanded his forces to camp there. A place named Dulahazara, meaning "one thousand palanquins", still exists in the area.

After the Mughals, the place came under the control of the Tipras and the Arakanese, followed by the Portuguese and then the British. The name Cox's Bazar/Bazaar derived from the name of Captain James Cox of the East India, who was in charge of the naval base. In 1854, Cox's Bazar was made a subdivisional headquarters. After the end of British rule, Cox's Bazar remained part of East Pakistan. Captain Advocate Fazlul Karim was the first chairman after independence from the British of Cox's Bazar municipality. He established the Tamarisk Forest along the beach to draw tourism to the town and to protect the beach from the tide. He donated many of his father-in-law's and his own lands to establish a public library and town hall. In 1971, the wharf was used as a naval port by the Pakistan Navy's gunboats. This and the nearby airstrip of the Pakistan Air Force were the scene of intense shelling by the Indian Navy during the Bangladesh Liberation War in 1971.
In 1984 Cox's Bazar was made a District.
How to reach Cox's Bazar
154 km from Chittagong, Cox's Bazar is connected by a well-built highway. There are Dhaka-Chittagong- Cox's Bazar round ways Biman (Bangladesh Airlines) flight 3 days a week and flights from private airlines like GMG airlines and United Airways operating flights to and from Cox's Bazar. Cox's Bazar by waterways from Chittagong is a romantic journey.
Where to stay
Hotels and Motels of Bangladesh Parjatan (Tourism) Corporation are good tourist accommodations. Prior reservation is advisable (Tel: 88-02-989928890, 88-02-881 1 1 09). Room rent range from Tk. 1200 to Tk. 3800. Good many private hotels are available in Cox's Bazar where room rent varies from tk 500 to tk 5000.
Hotels in Cox's Bazar
Hotel Seagull
Hotel Motel Zone
Cox's Bazar Beach , Bangladesh, Tel : 0341-62480-91, Fax : 88-0341-64436
E-mail: seagull@agni.com , seagull_cox@yahoo.com, seagullhotelcox@gmail.com.
Website:http://www.seagullhotelbd.com/


Hotel Sea Place
Hotel Motel Zone
Kalatoli Road, Cox's Bazar, Tel: 88-0341-63692, 63792, 63794, 63826, 63853 Cell: 88-01714652227, 01714652228,
Fax: 88-0341-63769, Email: cxb@hotelseapalaceltd.com

Chittagong Sales Office:
Mayer Shapna, 348 M.M. Ali Road, Room: 304 (2nd floor), Dhampara, Chittagong. Cell: 88-01554355116, 01716662274 E-mail:ctg@hotelseapalaceltd.com